[add_eventon show_et_ft_img="yes" etc_override="yes" tiles='yes' tile_count='3′ ]
[add_eventon_list number_of_months="3″ hide_empty_months="yes" ]
About Stinson Community Association
Values
Collaboration, Engagement, Respect, Trust, Transparency, Inclusiveness
Vision
Stinson is a diverse and engaged community with a natural, historic, and vibrant character.
Mission
To enable all residents to fully participate in the community.
To encourage, build, and preserve a safe, clean, and attractive neighbourhood that we are proud to call home.
Stinson Map
Neighbourhood Tour
Our Neighbouring Communities
Stinson Neighbour Action Plan 2012
Endorsement Policy
Stinson Community Association Membership
Would you like to be engaged with what's happening in our neighborhood? Would you like to effect changes that contribute to an ever-better Stinson?  Members actively participate with neighbours to ensure our community is Safe, Clean and Attractive.
Meet new friends and Neighbours. Members join or head up committees on topics that are of interest to them. Members attend Public Meetings and Special Information Nights. As a member you will be emailed updates and media releases of interest to the community.
Membership is FREE and SIMPLE!
Includes any resident living within the geographic boundaries.
Includes anyone who is committed to furthering our mission and supporting our vision and values.
New members are welcome at any time.
Interested in joining the SCA?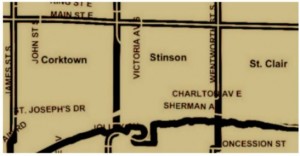 You are invited to attend a meeting and see what your Neighbourhood Community Association has been up to.
We meet the 2nd Thursday of each month starting at 7pm @ Central Memorial Recreation Centre located at the corner of West Ave S. & Stinson.
Check out the  Meeting Minutes menu and get caught up about our Meeting. Our Community Calendar  will get you around things going on in and around our neighbourhood and much more. You will even find archived issues of  The Stinson View the local newsletter.  All of these are ways our members are actively at work in the Stinson Neighbourhood.
Do you have questions about the SCA? Email to: [email protected]
Stinson Community History
Our Contact Info
Stinson Community Association
c/o Central Memorial Community Centre
93 West Ave. S.
Hamilton, ON  L8N 1S1
Email us: [email protected]
Margaret Bennett – Co-Chair Tim Perkins – Treasurer Olinda Habib Perez – Secretary
Come join us in person.  The SCA meets the 2nd Thursday of every month starting at 7pm @ Central Memorial Recreation Centre.
StinZine: We meet every 2nd Tuesday of the month.  Contact [email protected] for more info on how you can be part of the Zine Team!